Workshop
SL WORKSHOP ON "ASSESSMENT" (2019)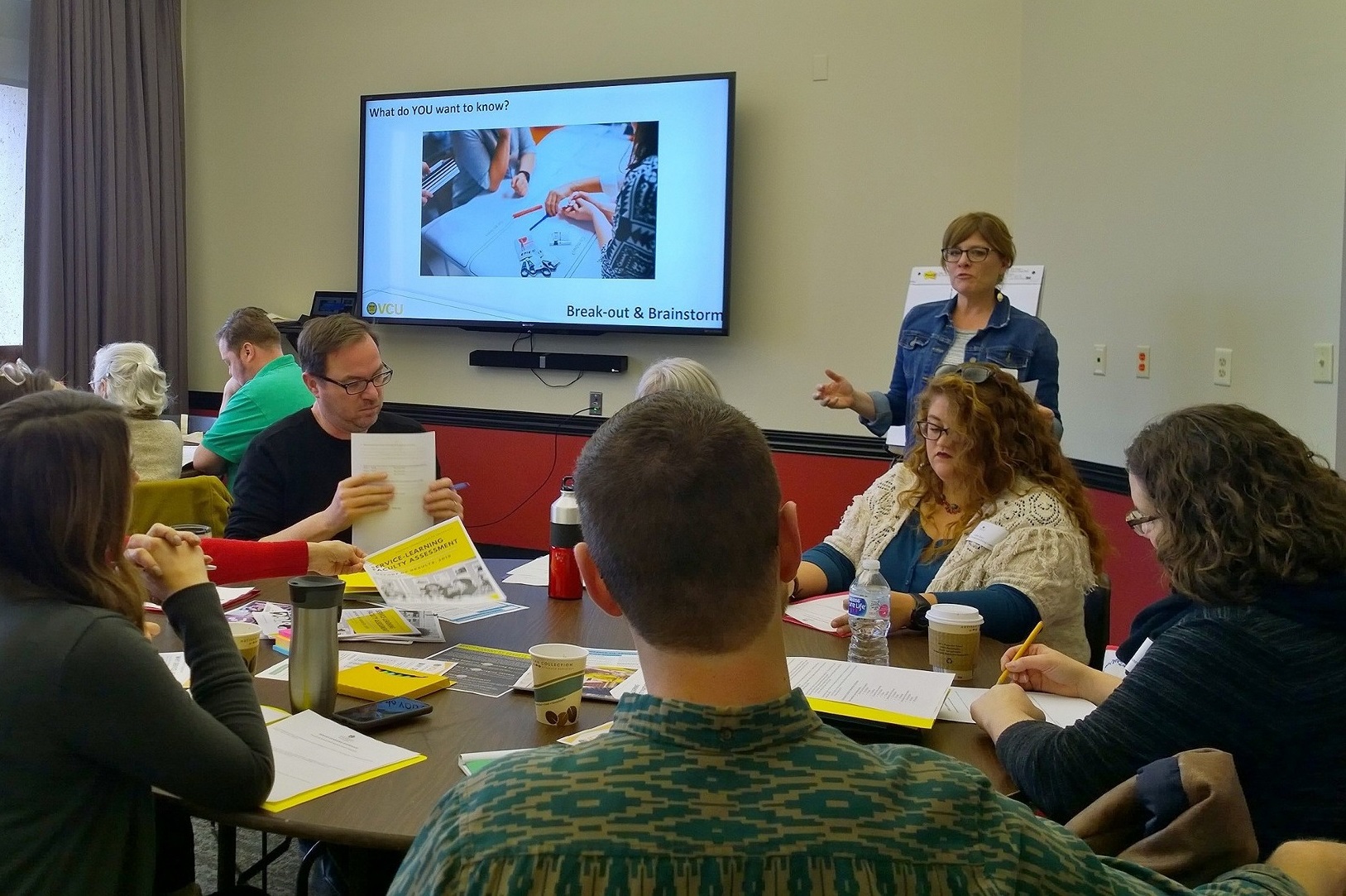 Dr. Amanda Hall facilitated a service learning workshop on assessment at the Arkansas Union (Feb 28, 2019) 
The University of Arkansas Service Learning Initiative recently hosted a workshop on service learning assessment (Feb 28, 2019). Dr. Amanda Hall from Virginia Commonwealth University (VCU) led the workshop and discussed planning assessment efforts for service learning at the university based on the success of VCU's assessment cycle.
According to Hall, "Assessment is a useful means to understand what faculty want and how to meet community partners' needs." She also said that all current service learning initiatives at VCU are a result of their faculty, student, and community partner assessments. VCU has been using assessment to move beyond academic outcomes and to focus more on civic-engagement outcomes. They utilize a three-year assessment cycle to assess professional and civic outcomes, to get stakeholders' (student, faculty and community partner) feedback, and to develop best practices.
Hall was instrumental in the creation and the continual distribution of the Service Learning Impact Measurement (SLIM) survey, one of the primary assessment tools used by the institution. The SLIM aims to assess student-perceived impacts in three main focus areas: academic learning, civic learning, and career readiness (professional competency). The U of A has adopted this survey and will be sending it to students currently enrolled in service learning courses in April.
The U of A Service Learning Initiative is developing an action plan to develop assessment protocols for faculty and community partners this fall. If you are interested in learning more about the SLIM as well as other resources provided by Hall and VCU, please email svclrn01@uark.edu.
Dr. Amanda Hall serves as the Special Projects Manager for the VCU Division of Community Engagement, Offices of Service Learning and Community Engaged Research as well as the Coordinator for the Office of Strategic Engagement within the VCU School of Education. In these roles, she collaborates across institutions and within the community to create, implement, and facilitate community engaged programs, professional development, and curricula for both higher education and K-12 institutions focused on critical pedagogy, professionalism, and relationship-building.
SL WORKSHOP ON "PARTNER DEVELOPMENT" (2018)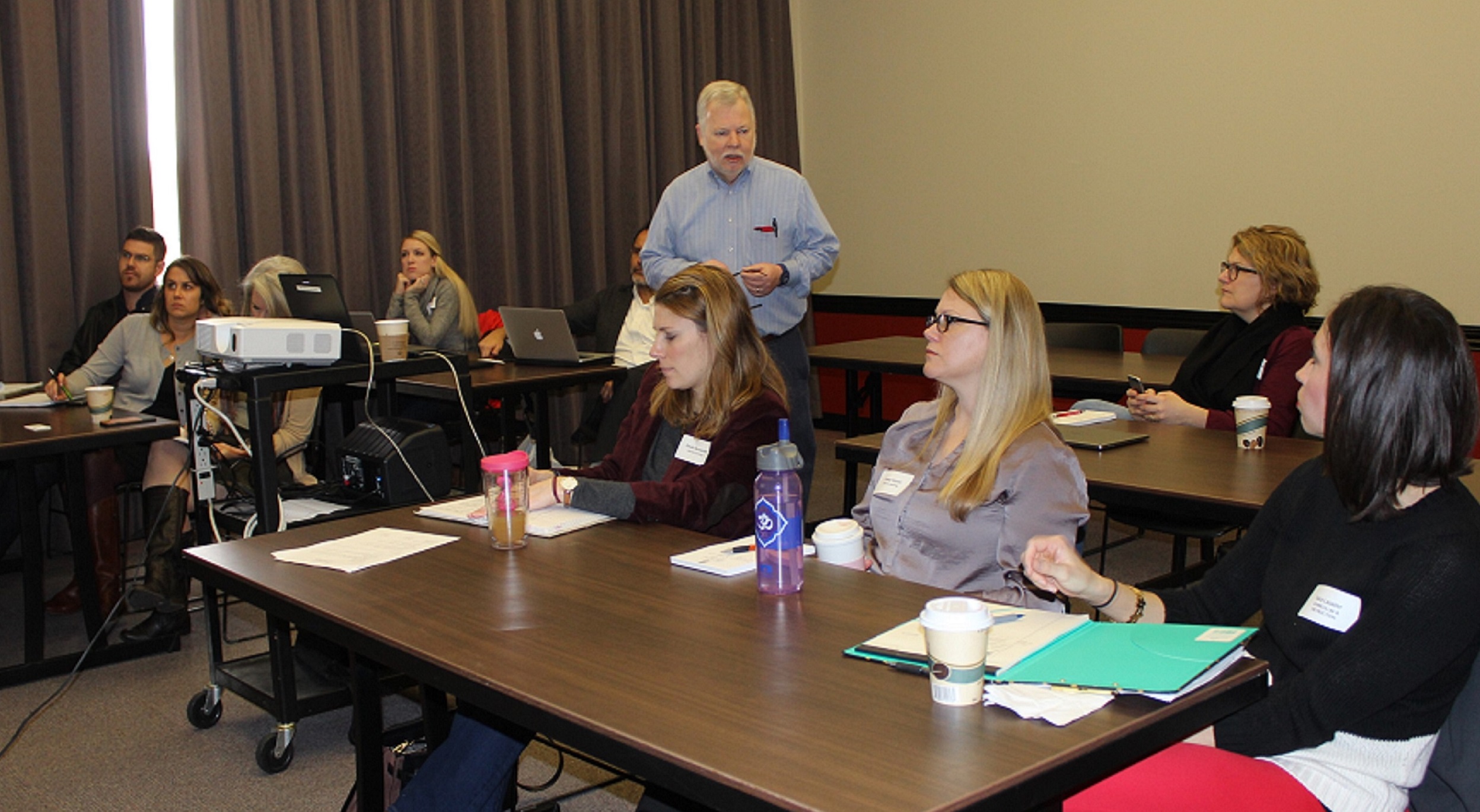 David Jolliffe showed faculty how to publish journal articles regarding service learning projects (Feb 20, 2018).
The Service Learning Initiative hosted its annual workshop on Tuesday, Feb. 20, 2018. This year's theme is "Partner Development." The activity was designed to assist both faculty and instructors new to service learning as well as current service learning faculty interested in establishing new partnerships or strengthening an existing partnership.
The workshop began with two concurrent sessions, one geared to community partners and one to faculty. Partners learned best practice strategies for communication and collaboration with faculty partners when integrating students in their work to create high impact results. They thought it was a great opportunity to converse with campus partners and analyze current and future projects as well as work through ideas and processes. Meanwhile, faculty were introduced to ways of incorporating research into service learning. They found it helpful to know where to publish their journal articles on service learning because that makes service learning feasible for pre-tenure faculty. The main online resources Dr. Jolliffe recommended for faculty is one by Purdue. Click this link for details.
For the remainder of the workshop, faculty worked with an existing/potential partner to explore course projects and lay the groundwork for a collaborative, reciprocal partnership that resulted in a service learning course to be offered between fall 2018 and fall 2019.
SL WORKSHOP ON "BE THE CHANGE!" (2015)

Faculty, agencies, and students worked together during the Service Learning workshop to formulate the best strategies to develop university-community partnerships for service learning advancement (Oct 19, 2015)
Service Learning Initiative successfully held its first workshop on October 19, 2015. The theme was "Be the Change Today." The workshop helped bridge gaps between faculty and students looking for service learning opportunities and community agencies needing skilled assistance for longer-term projects. The program began with two concurrent sessions and followed by a panel discussion.
For the faculty track, Laura Gray who had experience in leading the Community Development program for Vietnam Study Abroad led the discussion on "Service Learning Course Development: Pedagogy & Implementation" while Fran Hagstrom, assistant dean for College of Education and Health Professions, talked about how to incorporate research and other scholarly activities into service learning opportunities.
As for the agency track, Kim Johnson, marketing director, and Andrew Lipson, resident district manager for Chartwells, explored the best practices for being a service learning partner and working with students while Angela Oxford, Service Learning Co-Chairs, helped the community partners to develop a service learning proposal.
After the break, the panelists Lindsay Broshears (Lifestyles Inc.), Elizabeth Young (associate professor of Law), Luis Restrepo (assistant vice chancellor of Diversity and Community), Hilary Zedlitz (Fulbright College/Honors undergraduate student), and Maggie Jo Hansen (Bumpers College graduate student) brought the conversation to the next level by bringing together various perspectives from faculty, students, and agency. Everyone in the room strove to find the best strategies to strengthen university-community partnership for the advancement of both academic enrichment and civic responsibilities.
Missed our first workshop in 2015? Check out these two compelling presentation slides by Laura Gray on "Creating Context: Opportunities in Service Learning Pedagogy" and by Fran Hagstrom on "Integrating Research and Other Scholarly Activities into Service Learning Opportunities."
Creating Context
Laura GrayIntegrating Research...
Fran Hagstrom, Ph.D.