Lunch and Learn
"SAVVY STARTS IN SERVICE LEARNING" (SPRING 2022)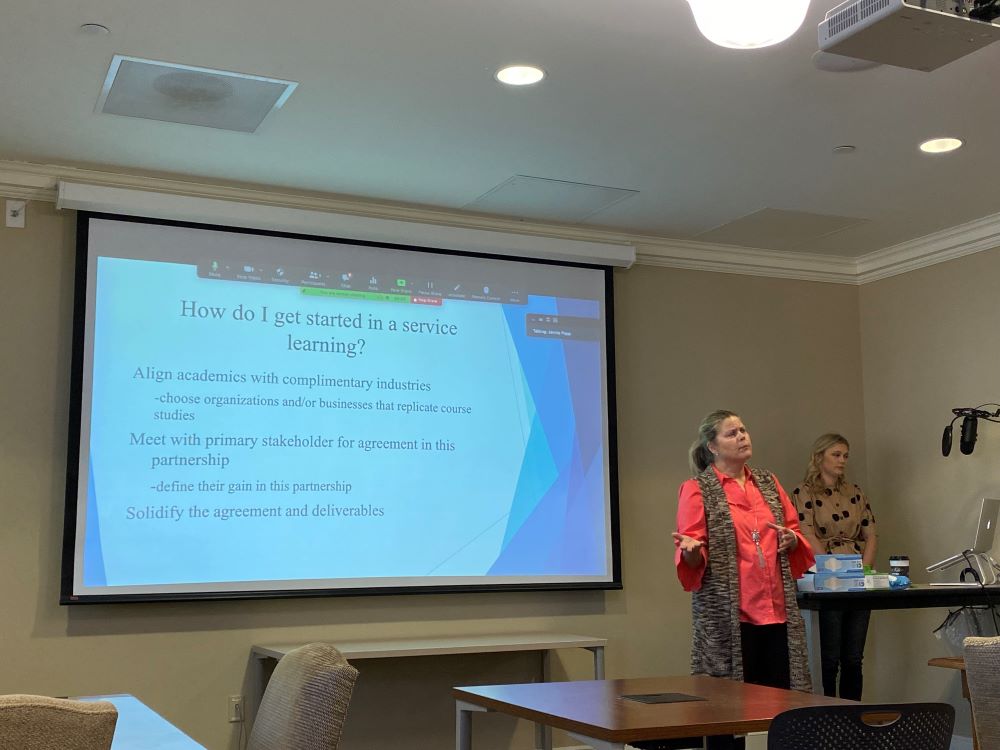 Professor Carrie Nelms presents on the topic of how to get started in service learning at the Honors College (March 16, 2022)
The University of Arkansas Service Learning Initiative recently launched its "Lunch and Learn" series in which faculty learn about different topics in the world of service learning and project-based methodology. On March 16, 2022, Professor Carrie Nelms in the Communication department presented on the topic of how to get started in service learning for the first Lunch and Learn event, titled "Savvy Starts in Service Learning."
Nelms operates her service learning classes according to the motto: "When we combine academics with industry, we produce future leaders." This theory became her solution to a problem that she noticed in academia--that post-graduation, students were not getting jobs despite having earned competitive majors. Therefore, she established project-based learning in her Communication course, Environmental Community Adaptations. In this course, students complete hands-on, needs-based projects for local community partners that have give them strong line items on their resumes. Many of Nelms's students have received jobs and internships with the very same organizations they worked with in her class.
In her presentation, she provided tips for faculty wanting to jump into teaching service learning courses. She advised them to create flexibility in their syllabi to match the changing needs of a community partner and conduct conflict resolution lectures for students to properly learn how to manage conflict when working with partners. Grace Gilbert, a former student of Nelms, testified to the benefits of service learning by sharing how the skills she learned in Nelms's Environmental Community Adaptations course, such as creating executive summaries and timetables, are ones she implements on a daily basis at her job with the Fayetteville Chamber of Commerce--which she received after working with them through Nelms's service learning course.
To learn more about Carrie's course and recent student projects, visit our course projects page. Email her at cnelms@uark.edu if you have any questions. If you would like to share a service learning topic at a future Lunch and Learn event, please email svclrn01@uark.edu.