Student Resources
The Student Resources page serves to inform students of the benefits of taking service learning courses at the University of Arkansas. If you cannot find the information you need, feel free to contact us.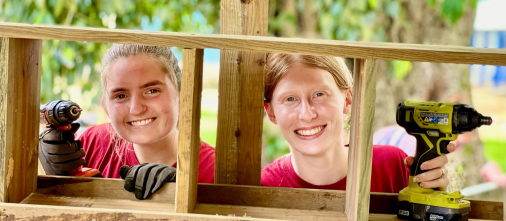 Service learning students in the Belize study abroad program (2022)

 
WHY SERVICE LEARNING?
Students could gain necessary career skills such as communication, leadership, problem-solving, teamwork, etc. Read UofA students' testimonies of their service learning experiences.

By working directly with the agencies involved service learning courses, students can build professional connections potential for future internship.

In a Service Learning class, students have the opportunity to use the final paper or project for the class to actually benefit the community.
Some service learning journals are accepting articles from undergraduate and graduate students sharing their service learning projects and experiences. Go to our Personal Development page for more information.
Students who take service learning course not only earn class credit hours but also community service hours. A service learning course requires a minimum 5 service hours per 1 class credit hour. Please consult with your class instructor for details. If you wish to log your hours but cannot find your specific class on GivePulse, just shoot us a message via svclrn01@uark.edu.
The Service Learning Initiative at the University of Arkansas is working on a blog with a Student Spotlight section. Feel free to send us your photos on site and short reflection from your service learning class to be featured on our blog and social media.
For more information about the service learning courses offered at the University of Arkansas every semester, check out our Course page. Students who are interested to inquire more on the course description and project should contact their College/School representative for more information regarding courses. Students whose classes would work closely with vulnerable population (such as Social Work internship, Latino Youth Biliteracy, and Lunch Buddy Mentoring) are required to do background check(s) and will be contacted by slcheck@uark.edu for further instruction. Visit the Background Checks page for more details.